When the bunny wanna be messy it's time for Lucina's messy chocolate Easter!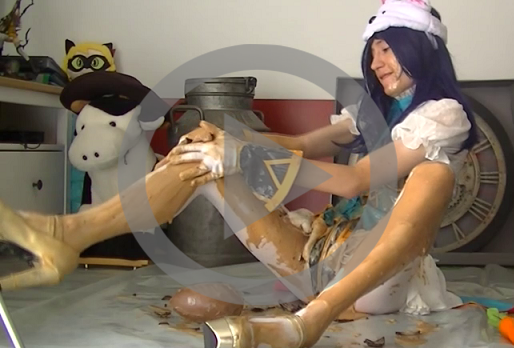 Here come a huge photoset made from the Lucina's messy chocolate Easter video recording. For all little messy addict that prefer, you can buy her the video format of that messy session. So Easter is back and Lucina wanted it to start on a really messy way. Of course by wearing her cute bunny costume presenting you her sweet body and curves. Next will be time to start show you the little game she prepared. Grabbing a tasty chocolate egg and crushing the top, you can see it's filled with some messy and slimy chocolate that our sweet bunny cant resit play with covering herself from this creamy fluid.
Using a second and third chocolate egg our bunny finally goes totally soiled and covered but the fun just starting, picking her carrot looking toy and happily liking it before play with her ass on various position offering the most pleasurable view and cutest moaning ever.
Also there's a messy shower coming as bonus for the final, full video have lot to offer to dirty perverts like you ^__^

If you like this costume and set don't mind put a comment here or on twitter so I can do more that way. Isn't that tempting? :p